Good morning, Vietnam! War is hell, but let's be fair, video game war is lots of fun.
To help prove this, Commotion Games has created a squad based top down action shooter (SBATDAS for short) called Recruits, which looks to please all your visceral tendencies and perhaps help remove some of the shell shock you got from the 70′s.
Recruits puts the player in the role of a special ops squad leader, commanding his squad through damp south east asian jungles, dry middle east deserts, and everywhere in between. There's waves and waves of enemies, and with their use of the Unreal engine, explosions, body dismemberments and other special effects look fantastic.
Recruits takes a really neat approach to top down shooters like Valve's own Alien Swarm, by adding squad tactics with AI and an RPG element to the mix. Now to be fair, adding an RPG element is all the rage these days in almost any genre. However, the ace in their sleeve is that as the game and the soldiers you utilize progress through the game, two things can happen: If you just barely scrape by in a mission, just like real ones, your soldiers will be mentally and physically exhausted and stressed and lose morale. This morale is tracked and as the stress increases, your soldiers will start to work together more poorly. Inevitably, as your soldiers lose morale and are worn down and the game becomes more difficult, one or more of your soldiers might die. If this happens they're gone forever and the next mission starts with a fresh and sparkling new recruit in place of the old grizzled veteran that once was. This means that the new recruit starts at level 1 with no bonus stats, just like you'd expect with a new recruit.
Variety is also the spice of war, so there are a bevy of different level locations. Each level is packed with multiple weapon types, enemy classes and objectives. There's lots to see, lots to do and most certainly lots to kill.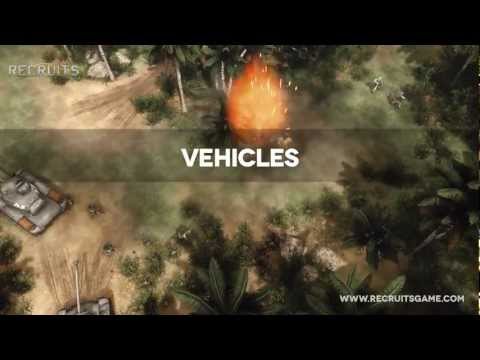 Features:
Multiple Mission Objectives
Wide Range of Weapons – machine guns, grenades, explosives, melee weapons, flamethrowers and miniguns
Fight battles in locations anywhere from thick jungle to civilian populated urban cities, and dark and damp underground mines.
Hard Core Level Up System
Context Sensitive Squad Commands
Group Morale System
Special Abilities and Upgrades
Single Player and Co-Op/Multiplayer modes
Survival and Hardcore modes
A-ten-hut! Recruits still needs your vote, maggot! Report to the Recruits Greenlight page at 0900 hours and submit your vote, before I put you in a world of pain.