If there is one thing I know about good games, is that they can seemingly have the most ridiculous scenarios and still be a blast. In fact, that philosophy rings true in all walks of life, but let us delve more specifically into Wimp: Who Stole My Pants? by FlexileStudio.
You play as Wimp, a cute little blob who has the same physical properties of a bubble full of sludge, but is indeed very adorable. Unfortunately for him, a giant fly steals his underwear while he is sleeping and ventures off into the toilet. It is undetermined what the fly's motives are for collecting underpants, but we can assume that it is to make some sort of
profit at some point and phase
. Upon entering the toilet and falling into a pool of excrement and garbage, Wimp continuously encounters new obstacles to overcome while retrieving his underpants. You collect rolls of toilet paper to earn points by finding ways to adapt to the 2D environment and all of the grimy objects that surround you. The gameplay is based on an evolving physics engine with simple gestures and outcomes. Progression leads to different abilities, techniques, and even powerups! Watch your flubbery friend Wimp bounce around and go kaioken!
I thoroughly enjoy the music and the cuddly charm it adds to the experience. The expressions of the characters and the way the game presents itself is also very cute. While the idea of searching for your briefs in a world of waste and poop may seem odd, FlexileStudio has made Wimp: Who Stole My Pants? very appealing to anyone who enjoys solving a good puzzle.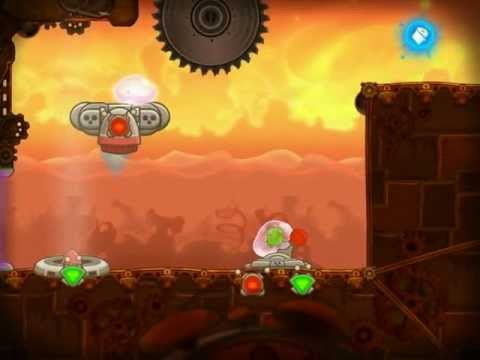 Features:
- Realistic physics.
- 80 unique platforming levels.
- User friendly controls.
- Amazing adventure with challenging puzzles.
- Diverse character mechanics.
- Different astounding worlds.
- Incredible boss fights.
- Various achievements.
- A lot of cute animations.
In all seriouness, this is a delightful game and it needs your votes to be greenlit. Do it, otherwise I'm going to send my army of gnomes after your underpants!